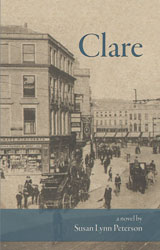 Here's my holiday gift to you: Clare will be on sale until January 1, 2013.
• Prices on the ebook editions (Smashwords, Amazon, Sony, Kobo) are now $2.99.
• Order from Kobo, enter the code thankyou2012 and get another 35% off.
• Purchase the print edition directly from the printer,* enter the code KL75LT35, and you will get $6 off the cover price.
Do you know someone who loves historical fiction? Someone whose family came over from Ireland? Someone who enjoys journey tales? Give them a copy of Clare for Christmas. Smashwords has a give a gift link that makes giving Clare as a gift as easy as purchasing it for yourself.
Now is the time. These prices will go away January 1.

Learn more about the Clare
Read a sample
*Clare is printed by CreateSpace, a division of Amazon.com, so buying Clare from the printer gives you the same quality and security that you get from Amazon.